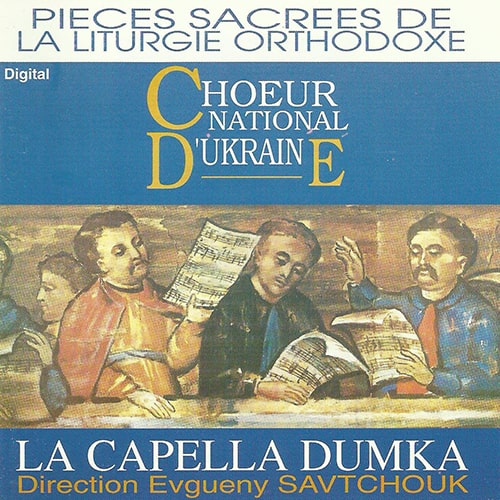 Spiritual works of the Orthodox liturgy
Year
1995
Composers
Dmytro Bortnianskyi
Kyrylo Stetsenko
Oleksandr Koshyts
Mykola Leontovych
Oleksandr Hrechaninov
Serhii Rakhmaninov
Pavlo Chesnokov
Conductor
Yevhen Savchuk
Performers
The National Academic Choral Capella "DUMKA"
Soloists
Halyna Zikrata, Alla Horobchenko, Fedir Potapchuk, Ihor Babych, Anatolii Hazyrin, Volodymyr Hrytsiuk
Works
Dmytro Bortnianskyi. Sacred Choral Concerto №4 "Shout to the Lord, all the earth"
Kyrylo Stetsenko. Bless the Lord, my soul
Oleksandr Koshyts. Holy God
Mykola Leontovych. In your kingdom
Mykola Leontovych. I believe in one God
Oleksandr Koshyts. Cherubim
Kyrylo Stetsenko. The grace of peace
Dmytro Bortnianskyi. It is Truly Meet
Mykola Leontovych. Our Father
Oleksandr Hrechaninov. Your evenings are secret
Sergey Rakhmaninov. Blessed is the man
Pavlo Chesnokov. "Do not reject me in my old age"
Dmytro Bortnianskyi. "Many years"